Diziana Arcturus is a fully responsive Zendesk® Guide Help Center Theme (templates); a minimalist, and elegant one which can be easily configured through settings UI in Zendesk Guide Admin.
It can be used by all kind of organizations -- Technology, Education, Tour & Travels, Food, Startups, IT, Medical, Construction, Builder, Marketing, Startup, Fashion, Government, NGO, Not-For-Profit - Companies, Business or Organizations.
Diziana Zendesk Themes can be easily configured through settings UI (provided in Zendesk Guide Admin), and in most cases no code changes required. Please look at settings screenshots provided later in this description.
Over 100000 Zendesk customers use Diziana Zendesk Themes for their Guide Help Center.
Theme Editions
Standard Edition: USD 299 (one time cost with access to free upgrades to future versions -- minors and patches). The source code is not available in this edition. You will be able to change all important settings via admin UI.
Developer Edition: USD 339 (one time cost with access to free upgrades to future versions -- minors and patches). The full source code is available via 'Edit Code' button in theme customization area. You will be able to change all important settings via admin UI.
Theme Walkthrough/Demo Video
https://www.youtube.com/watch?v=LJkKmOaYlIE
Purchase Includes
Theme License: Diziana Arcturus Theme License for One (1) Zendesk Help Center or Brand.
Support: Ninety (90) days via email.
Theme Features:
Custom Block Icons
Category Block Icons
Knowledge base Tree (component that can be enabled on the homepage) -- simple list as well as accordion
Zendesk Gather Community Templates
Table of Content on article pages (optional -- can be enabled)
Admonitions (Note, Warning, Tips, etc.)
Responsive Tables in articles
Custom hero image for the homepage and community homepage
and more.
This theme is very adminable (configurable) from theme admin settings UI, and exposes the following settings. You can look at screenshots of settings to learn more.
Colors (brand color, brand text color, background color, text color, link colors, header/footer background/text colors)
Fonts (select from a list of font families Zendesk Theming provides). You can use custom web fonts (Google Font, or your own) in Developer Edition because you need to have code access to use custom fonts.
Search Field Placeholder text
Show/Hide Custom Blocks -- a set of icons on homepage that can be used to link with anything (article, category, section, a page on your website, any page on internet)
Manage Custom Block settings (change icon, change title, change link URL, use Dynamic Content for multiple language support, etc.)
Change icon (image or font-awesome), text, links of Custom Blocks
Show/Hide Categories on the homepage (learn about blocks); Category blocks are a set of icons which are generated from the list of categories in the Guide. If your help center has only one category, then all sections are listed as icons on the homepage. You will need a Developer Edition License to associate icon to be shown on the homepage for each category, or section (in case of single category help center).
Set/Unset social media links
Show/Hide author details/meta (name, avatar, date) on article pages
Show/Hide sidebar
Show/Hide Follow button in section or article pages
Multiple Language support -- all relevant settings are localizable via Dynamic Content
and more.
Contact Button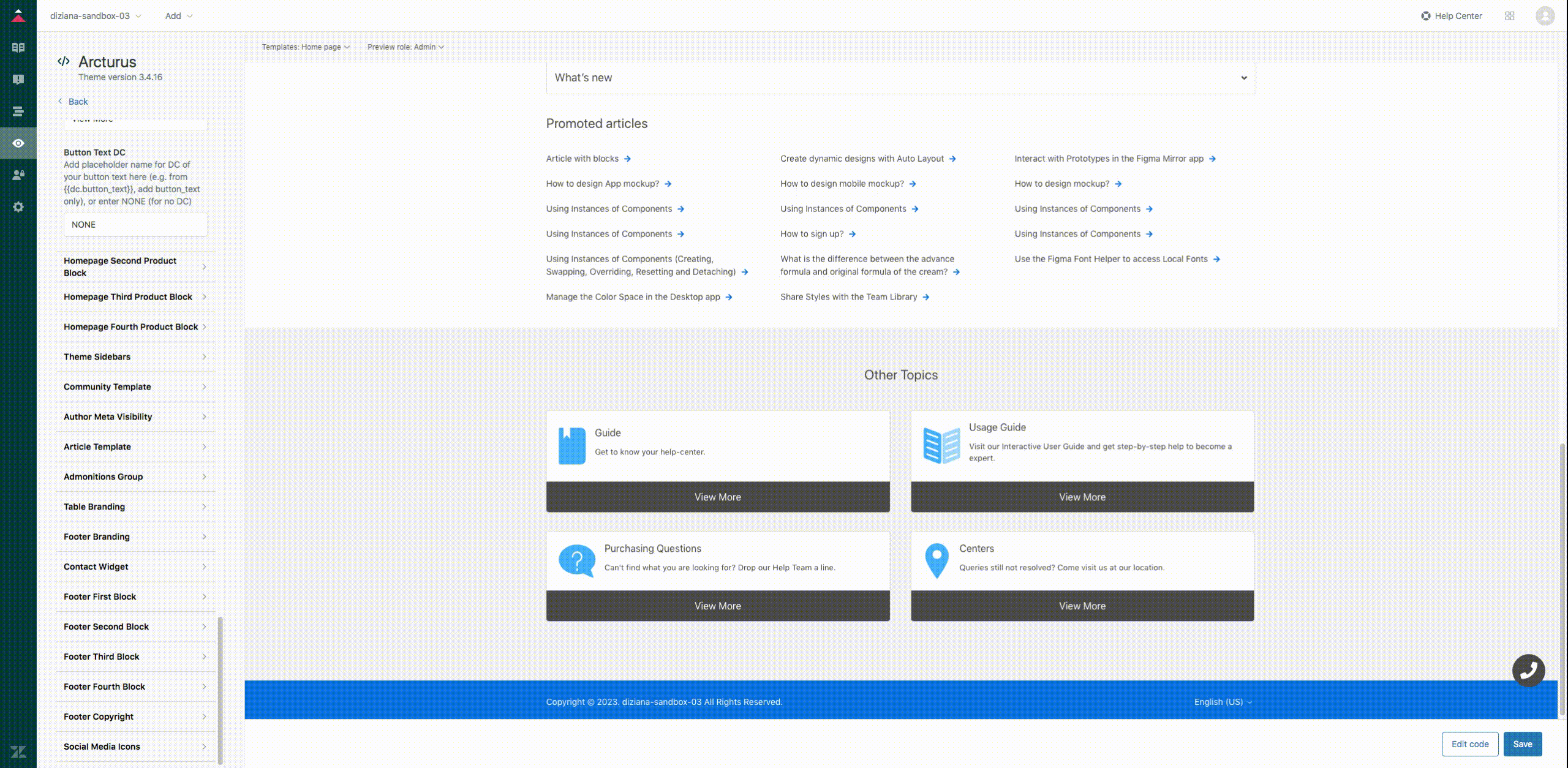 Homepage Blocks layout
Knowledge Base Accordion
The Standard Edition only allows changes via settings panel; which works for most. You need Developer Edition for advanced customization such as:
change layout of templates
change header/footer to have add/remove links or different style.
associate icons with categories (or sections in case of single category Guide) for category blocks on the homepage
use custom fonts
add or remove features.
It is recommend that you purchase Developer Edition so you have access to complete code, and you can do custmization by changing CSS/HTML/JavaScript wherever needed. That said, the Standard Edition provides all important settings, and if you just want to get started it's good enough.
Please see following screenshots to see all settings exposed by this theme, you may never need to edit code for most things. You can open each of following open in new tab to see larger version of the image.
Please feel free to reach out for more information, or to ask any question (before or after purchasing the theme), or if you are looking for customization and branding services.
About Diziana:
Diziana helps businesses and organizations to create a fantastic customer self-service experience via Zendesk Guide Help Center(s).
Diziana is a leader in providing ready-to-use custom Zendesk Guide Help Center Themes (templates), and services like Help Center Design, Branding, Advanced Customization, and Integration (with other Zendesk Products, in-house/third-party services/systems).
Diziana has globally helped hundreds of businesses (SMBs to Fortune 500) and organizations (government, nongovernment, nonprofit) to have Fantastic Self Service Zendesk Guide Help Centers. Some of companies Diziana has helped are Cloudflare, Figma, GatesFoundation, Cornell University, OppoSuits, HelloFresh Australia, Switzerland Tourism, Zebpay, Minicabit, Jacada, GOG, InEight, CloudShare, IWA, etc.
Team Diziana has decades of experience, and some of them have worked at companies like Yahoo!, Adobe, Macromedia, etc.