"Our agents often type 'I Love Zendesk' as their IM status message. We're big, big Zendesk fans."
- Eric Hallquist
Senior Director of User Operations - Zoosk
4
Departments using Zendesk
Zoosk is the world's largest social dating community, having registered 50 million singles from 60 countries since its founding in 2007.
Users can access Zoosk's online dating experience from the company's website, social networking applications, mobile services, and downloadable desktop application. The service is available in more than 20 languages.
Zoosk makes online dating fun and easy, and the company wants its support experience to be the same way. When members have questions about billing, subscriptions, or website features, the company aims to respond as quickly as possible with friendly, accurate support. But until recently, Zoosk used open source ticketing and email solutions that provided only a fraction of the functionality the rapidly growing company needed.
"We were a typical startup, using hacked-together free tools to support our customers," said Eric Hallquist, Senior Director of User Operations. "As we grew in sophistication and complexity, we needed greater insight into customer requests so that we could better prioritize our support activities."
Zoosk wanted an online support solution that would provide rich functionality, yet could be implemented quickly and easily. Zendesk Support provided the perfect blend of power and simplicity.
"Our Zendesk Support implementation was the easiest implementation I've encountered in my career," Hallquist said. "But this is not a generic solution. We were able to use the tool's CSS widgets to make our help page and tickets look and feel like part of Zoosk."
After fine-tuning the look and feel, Zoosk set up intelligent routing for incoming tickets. Today, whenever a Zoosk member submits a support request via a web form, Support's triggers go to work. Triggers are defined business rules that run immediately after a ticket has been created or updated. For example, a trigger can be used to notify customers when a ticket has been opened or when it has been solved.
So in Zoosk's case, when a member submits a support request, they receive an automated email response that lets them know when to expect a resolution. Based on the nature of the request, the email may direct them to self-serve support such as online help and FAQs.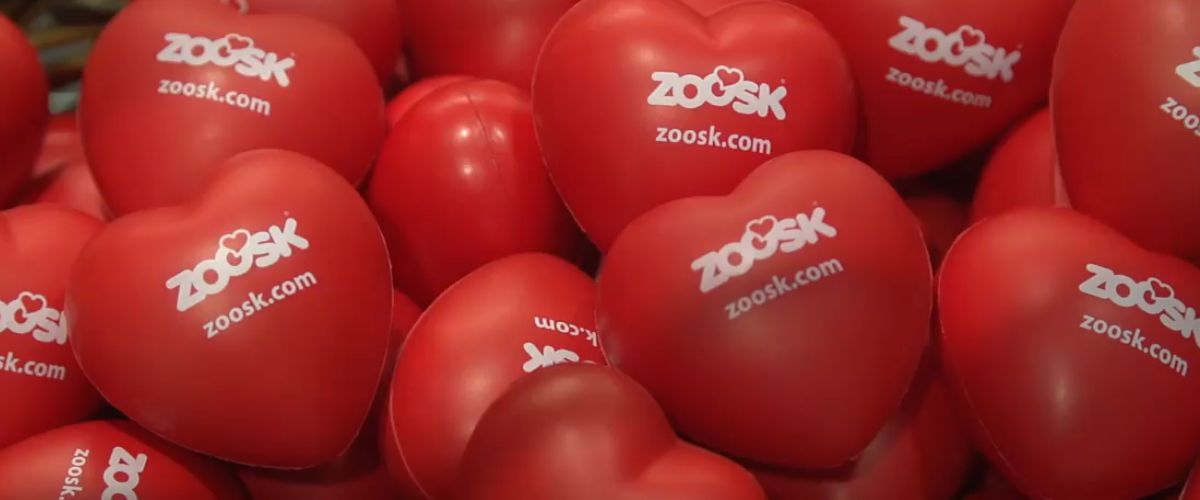 Triggers also apply tags to tickets based on the information the member entered into the support form. This way, Zoosk's agents—who are arranged in logical groups within Support—can sort tickets by views. Views define a collection of tickets based on a set of criteria. Views can be formatted to display as lists or tables, and you can specify who can access them. These views allow Zoosk to assign tickets to agents based on their areas of expertise.
"We provide support in five languages," Hallquist explained. "Zendesk Support automatically filters tickets for our agents based on the languages they speak and the technical issues they're most adept at addressing."
As Zoosk's agents work, Support's integrations give them easy access to powerful functionality that enables better customer service. One custom widget integrates with Zoosk's member database to let agents look at the member profile for each ticket. "Thanks to Support's integrations, our agents have all relevant member information at their fingertips and can send a knowledgeable, personalized response much more quickly," Hallquist said.
Zoosk has also integrated the Ifbyphone® Widget into its Support system, allowing agents to manage phone calls on the same platform as support tickets. When a member calls Zoosk's toll-free support number and leaves a voicemail, Ifbyphone automatically transcribes the message into a text file and sends it—along with a recording of the call—to Support, where it becomes a support ticket. After reviewing the issue, a Zoosk agent can use a virtual dialer to call the member without leaving the system.
Using Support's views, search tool, and reports, Zoosk can gauge the effectiveness of its support programs and plan for the future. At a glance, Hallquist checks on ticket volumes, response times, and a host of other statistics. "With Support, we can easily identify trends in the questions our members are asking, and then use this information to guide our product development decisions," he said. "Now, if our marketing team asks me how many of our French subscribers are calling to cancel their subscription each month, I can give them an exact answer."
Support's analytics have also revealed a dramatic increase in user productivity and decrease in response time. "I expected a learning curve with Zendesk Support—but I was wrong," Hallquist admitted. "Our agents used to address 100 to 125 tickets per day. Now they handle up to twice as many."
After reviewing Support's backlog report, Zoosk recently identified the need to extend its support to seven days per week. That means agents will get to spend more time with an online support system they've grown to love.
"When we first checked out Zendesk and saw the marketing taglines such as 'Love Your Helpdesk', we thought it was a little hokey," Hallquist admitted. "But now we're going around saying these things."