How to choose sales reporting software
Collect, communicate, and learn from sales data.
Sales reporting software is the future
更新日: November 20, 2023
Though 2022 has been a tumultuous year politically and economically, the IT sector isn't slowing down. And with Gartner reporting that software spending is anticipated to grow 9.8 percent to $674.9 billion USD in 2022 and outpace all other IT categories by an even wider margin in 2023, one fundamental truth is clear: the software economy is here to stay.
Technology spending in high-performing companies has never been higher, and as we move further into the 21st century, it's becoming increasingly apparent that IT investments are crucial for companies who hope to stay competitive.
Since you're here, you're probably well aware of that fact.
If you're investigating which sales reporting software is best for your company, then you've already made the urgent realization that reporting software is necessary for your company. And as is the case with any technology trend, the rise in demand for sales tech means there's now an abundance of options for the savvy consumer.
This is good and bad. The good news is that there's definitely a product out there for your company. The bad news? You might have to weed through the masses to find it.
We're here to help make that search easier. In this piece, we'll take a deeper look at the benefits and capabilities of modern sales software, and how you can narrow down exactly what your business needs. We'll also rate and review the top ten sales reporting softwares of 2022 to help you make the best decision for your company.
Table of contents:
What does good sales reporting software do?
Sales reporting software is pretty self-explanatory — it generates sales reports for your team. As a form of sales intelligence software, sales reporting software automatically creates reports covering any number or combination of sales metrics. Essentially, there are an infinite number of sales reports companies can use, but industry experience has led most companies to focus on a few key types (we'll dive deeper into that in the next section).
The principle behind reporting software and sales reporting in general is the same principle behind most sales analytics: if you don't understand your current behavior, then you can't improve it.
Like many sales software developments over the last decade, sales reporting software has been developed to make your sales process smarter. Not only does daily sales report software give you actionable insights into your company's day-to-day workings, it also highlights your weak points so you can course-correct.
Depending on the size of your company and the type of sales you focus on, you might need different functions or features in your software. However, there are a few key functions that all good sales reporting software should perform.
Your software should generate comprehensive reports
The number one job of any sales reporting software is to give your team simple, accurate reports on the metrics they need. Whether you're looking for crm analytics, email analytics, or sales forecasting models, your reporting software should be able to generate clean reports with minimal human effort.
We mentioned above that the number of custom reports available is endless, but there are five types that greatly benefit all sales companies. Let's take a deeper look at these crucial types:
Pipeline and funnel analysis reports:

Pipeline and funnel reports give your team a clear picture of how leads are moving through the pipeline, where prospect churn is occurring, how conversion rates are faring, and how the length of your sales cycle is fluctuating.

Most of these reports are customizable for different time periods, different aspects of the cycle, and individual teams or reps.

Sales forecasting reports:

Sales forecasting reports provide your company useful insight into future revenue, costs, and conversions. Most sales reporting platforms allow forecasting on an entire-company or individual-account level, so you can pick and choose the information you need. You can also forecast using your preferred forecasting method, whether that's percentage of sales, credit, or receivables.

Many sales reporting platforms will also come equipped with sales forecast templates or offer integrations with more advanced sales forecasting software.

Revenue reports:

Revenue reports keep your company financially informed and detail the number of deals won or lost in a given time period. Many revenue reports will overlap with sales forecasting reports. However, revenue reports are also essential for analyzing the financial status of the company at the end of each sales cycle or quarter.

With solid revenue reporting, your sales team can easily see where they've been successful and where they might need to pick up the pace in order for you to hit your break-even point.

Performance reports:

Sales performance reports are the key to pinpointing where training is needed in your teams. By looking at team-wide and individual quota reports, your sales managers can determine which areas need additional coaching and which individual sales reps need a bit more support.

Customer interaction reports:

Customer interaction reports unlock marketing insights for your marketing and sales teams. These reports focus on sales tracking and let your company know which methods of outreach are most effective, how your customers prefer to communicate, and which methods of communication you might be wasting time on.

They can also give insight into the number of interactions needed for a successful conversion with different types of prospects.
Your software should organize automated data
Peter Diamandis, CEO of the X-Prize Foundation, once said "Every second of every day, our senses bring in way more data than we can possibly process in our brains." It's true. As of 2018, it was estimated that globally, we create 2.5 quintillion bytes of data each day. Now, not all of that data is related to sales, but that doesn't mean companies aren't easily overwhelmed without a bit of help.
Sales reporting software is that bit of help. Good reporting software not only collects, organizes, and processes automated data, it helps you make sense of it — especially if you're a large company. For instance, Staples deals in both B2B and B2C sales in numerous countries. In the United States alone, they need to manage data from 1,040 stores along with digital purchases. Doing that manually would be extremely expensive and inefficient.
Instead, reporting software can collect automated data from their entire company and generate concise reports — no matter how big or small the numbers.
Your software should integrate with your sales dashboard
The third key feature every good sales reporting software needs is the ability to integrate with your company's sales dashboard. At the end of the day, reports aren't very useful if no one in your company sees them. You could always send them out in an email, but we all know the last thing your company needs is more internal emails.
If your reporting software integrates with your sales dashboard—like the Zendesk Sell dashboard above—you won't need to send reports. All employees will have access to reports on their own accounts. If you run a quota analysis, you can send it to your sales dashboard for your entire team to see. It's simple, clear, and doesn't get lost in the junk folder.
Why are sales reporting tools important?
Now that we know what sales reporting software needs to do, let's look at why we need it to do those things.
They allow for clear, simple data analysis
Data analysis is one of those concepts that can get overly complicated when all you need it to do is deliver simple, comprehensible results. Especially in sales, when your time is precious, you don't need to see the math behind the numbers. Someone does, but not you. Reports generated by sales reporting tools are designed with user-friendly templates and clear numbering so that their impact can be seen at a glance.
The purpose of all sales software is to make the analytical side of sales easier for your reps and your company. You invest in sales software because the time it saves your reps comes back to you in increased profits. Sales reporting tools save time and energy by creating black and white sales pictures that are easy to follow — from simple monthly quotas to complex value chain analysis.
After all, if you can't figure out what a sales report is trying to tell you or why it's important, what's the point?
They streamline your sales goals
There are so many competing priorities when discussing company-wide opportunities for improvement that sometimes, sales goals get boiled down into a simple "do better." That, however, doesn't help your company create successful strategies.
It used to be that if sales numbers were down, one of the first instructions leaders might give to the sales reps of yore was "more, more, more." It was hammered into their heads that they should bring in more leads, make more calls, and send more emails.
At times, "more" works. But sales reporting software helps reps and teams work smarter, not harder. And it's often the case that "more" isn't actually the solution to the problems plaguing your sales pipeline.
Identifying those problems used to rely on gut instinct. But with reporting software, you don't have to guess what your strengths and weaknesses are — your software will simply tell you.
If you look at your sales reports and there are upward trends in leads generated, calls made, and emails sent, then sales are clearly down for other reasons. In this case, you could turn to your pipeline overview. With a quick glance, you might notice a huge increase in prospect churn right around the middle of the funnel.
That's fantastic. Now you know where the problem is occurring, so you can look at the materials your sales team uses during MOFU, the number of interactions they make, and the content of those interactions. If you're losing prospects in the middle of the funnel, the problem could be as simple as a misalignment between sales and marketing. If prospects come in with certain product expectations from ads and your sales team doesn't meet those expectations, you're going to lose your prospects.
They align your departments
Sales reporting tools are one of the easiest ways to get everyone in your company on the same page. Whether you're aligning sales goals, looking at product quotas, or developing new marketing plans, it's essential that everyone in your company works towards the same numbers.
Each department has their own KPIs they need to meet, but if they're meeting them in a vacuum, then your company isn't seeing the full payoff of those KPIs. If your marketing team is taking July to push for a 20 percent increase in leads, but your sales team is pushing for a 20 percent increase in conversions, then you're not going to see the 20 percent increase in revenue you want.
If your sales reps are focused on personalization and conversion, then an increase in leads is only going to slow them down or stop them from creating unique customer experiences. Unaligned goals can ultimately hurt progress.
Instead, use sales reports to get everyone working towards a unified goal. If sales needs to work towards more personalization, then rather than asking marketing for more leads, simply ask them for stronger leads from your best lead sources.
'Teamwork makes the dream work' might be a cliche, but that doesn't mean it's not true.
How do you choose the right sales reporting platform?
Once you have a few top candidates that meet your basic sales reporting software needs, it's time to get into the nitty gritty features. There are lots of ways to determine which software is right for your company, but we recommend starting with the most relevant questions.
Take a long look at your company, its procedures and goals, and ask questions like:
Does my company primarily focus on inside or outside sales?

What types of reports do I want to generate?

Am I already using a CRM with a sales dashboard and do I want to stick with it or invest in a completely new system that includes CRM features alongside sales reporting tools?

How tech-savvy are my employees? Will they easily adapt to complex systems?

How much does this platform allow me to customize?

Can this software be used in the field?

What is my budget?

What data security does this software provide?

What is the reputation of this software company's customer service?
By answering these questions, you've given yourself a framework with which to identify the software that serves your specific needs and solves your specific pain points.
Additionally, most sales reporting tools offer a free trial or demo, which we highly advise taking advantage of. If you have the opportunity to test drive your new software, why not take it?
The top 10 sales reporting platforms
Sales reporting platforms come in two main varieties:
Independent sales reporting platforms that need integration with an existing CRM

Sales reporting software that's pre-built into an all-encompassing CRM
Below are our top ten sales reporting platforms for 2022. We've mixed in a few of each type, so you'll be sure to find what you're looking for. These softwares are ideal for businesses of all sizes and many are scalable for long-term growth.
Zendesk

SPOTIO

Salesforce Tableau Analytics

Pipedrive CRM

HubSpot Reporting
Grow

Looker

DataBox

InsightSquared

Intercom
Zendesk Sell is an all-in-one sales CRM designed to give your sales team the tools they need to focus on what really matters—your prospects and customers. With over 25 automated visual data reports, five pre-built sales dashboards, and custom reporting capabilities, Zendesk Sell makes it easy to collect and analyze your sales pipeline and performance data to help your teams make informed business decisions.
Alongside robust sales data reports, Zendesk Sell also features customizable sales dashboards for leads, deals, products, activities, and calls data. These dashboards deliver a quick snapshot of various aspects of your sales so sales managers and reps alike can get the insights they need.. There is also the rep performance dashboard that is customizable with 10+ widgets, which help keep your entire team on track and aware of company progress.
With comprehensive, customizable sales reports, our sales analytics software gives sales teams the small details they need to create the big picture you want.
Features:
Pipeline reporting

Customizable and interactive sales dashboards

Sales forecasting reports

Activity reporting

Native integrations

Sales leaderboards

Mobile access

Customizable metrics and KPIs
Free trial/Demo: Free trial and demo available.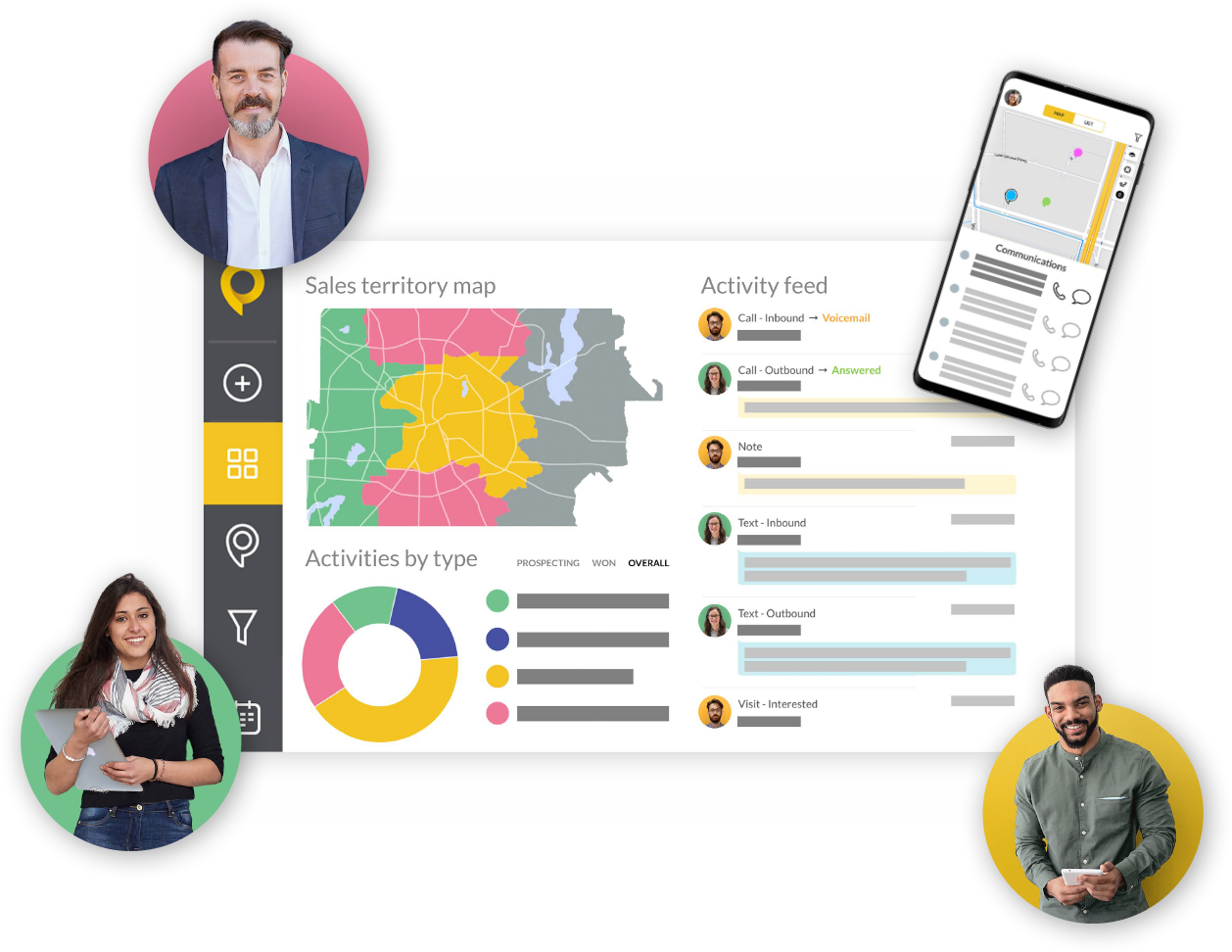 SPOTIO is a sales engagement platform designed for outside sales teams. This sales tracking software generates reports from the field on a variety of metrics including rep location, sales activities, revenue data, and pipeline metrics.
As a specialized solution, SPOTIO is best used by companies that already have an internal CRM platform. SPOTIO software integrates with larger CRMs as a way to easily add field sales data into your company's complete sales database. If your company utilizes outside sales, SPOTIO can also assist with automated route planning, multi-channel communication with the home office, and territory management.
Features:
GPS rep location tracking

Mobile app

Sales activity reporting

Native integrations

Customizable reports

Outside sales planning tools
Free trial/Demo: Demo available.
Salesforce Tableau is an analytics platform built to integrate with Salesforce CRM. Tableau includes analytics apps, dashboard templates, data prep, report sharing, and data analysis collaboration.
With a focus on customization, Tableau gives teams the ability to generate unique reports in response to specific situations or inquiries. This customization feature has drag and drop design, visual modifications, and natural language processing.
While some sales reporting features are included in the core Salesforce CRM, Tableau is designed to be a partner platform with additional sales reporting abilities.
Features:
Pipeline reporting

Interactive dashboards

Customizable reports

Native integrations

Advanced report design

Collaborative data
Free trial/Demo: Free trial available.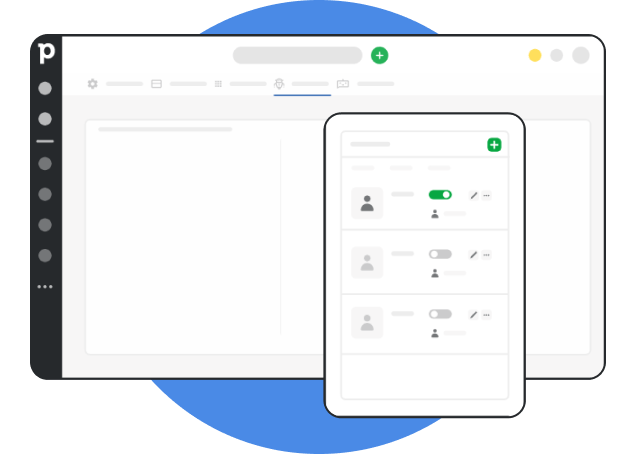 Pipedrive CRM is a sales CRM with lead management and sales reporting features. Their sales insight features include customizable reports, forecast reporting, performance analysis, and real-time conversion rates.
As a full CRM, Pipedrive's sales reporting features are enhanced through the visibility of sales dashboards. These dashboards are designed to help your teams set goals, understand forecasts, and keep on top of their quotas.
Pipedrive prides itself on its simple interface and activity-focused design.
Features:
AI-powered automations

Customizable reports

Automated report generations

Lead reporting and deal tracking

Native integrations

Centralized communications and sharing
Free trial/Demo: Free trial available.
HubSpot sales reporting used to be a separate platform that was recently integrated into their core sales CRM. It includes the same features, but is no longer available as an add-on.
Similarly to Pipedrive, HubSpot reporting takes the data and communication features of the HubSpot CRM and puts them to work in analytics. This platform comes equipped with over 90 pre-built reports and the ability to create up to three customizable dashboards. Sales reps using HubSpot have access to real-time reports on funnel, sales, and forecasting activity.
While HubSpot Reporting is a popular platform, it's worth noting that it is now only usable within the core HubSpot Sales CRM.
Features:
Custom report builder

Weighted forecast predictions

Real-time pipeline visibility and analysis

Native integrations

Customizable sales dashboards
Free trial/Demo: Free trial available.
Grow is a business intelligence platform designed for non-technical users. As a result, it doesn't offer a large amount of customization, but it makes up for that in unique templates and simple one-click integrations.
When connected to a CRM, Grow automatically imports sales data and generates clear reports on pre-determined metrics. It also imports data from integrated ad platforms, social media accounts, and other departments (like marketing or accounting).
Grow is the ideal platform for a small business with little-to-no tech involved in their operations.
Features:
Native integrations

Automated data capturing

Automated report generation

Social media and marketing analysis

Data transparency

Dashboard filtering

Open communication and access
Free trial/Demo: Free trial available.
Looker is a business intelligence solution that can be used for different purposes depending on what your company needs — whether that's supply chain management or sales reporting. Entirely data-based, Looker integrates with your current CRM system to create a knowledge database through data insights, workflows, custom applications, and AI.
Essentially, if the data exists, Looker will organize it. Looker is also segmented by industry in order to prioritize different features for retail, outside sales, inside sales, marketing, and customer service.
Features:
Mobile app

Customizable reports

Pre-built templates

Data modeling language

Native integrations

Developer portal

Cloud solutions
Free trial/Demo: Demo available.
Databox is a multi-device analysis tool dealing with individual sales, company strategies, and everything in between. This platform integrates with your existing software and centralizes your data into one analysis hub. This centralization allows DataBox to perform cross-platform analysis with increased accuracy.
Similarly to SPOTIO, DataBox is designed for companies with an existing CRM or tech stack. DataBox integrates with these devices and provides an array of sales reporting features including data visualization, dashboard customization, and trend monitoring.
Features:
Dashboard integrations

Dashboard customizations and templates

Metrics analysis

Data integration

KPI tracking and alerts

Mobile app

Real-time insight alerts

Native integrations
Free trial/Demo: Free trial and demo available.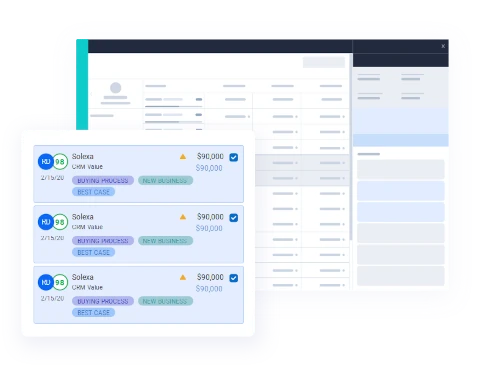 InsightSquared is a forecasting, capturing, and analytics AI-driven platform for companies of all sizes. While designed to work best when integrated with a CRM, InsightSquared can also stand on its own as an intelligence platform with streamlined features.
Heavily focused on automation, InsightSquared provides clients with real-time reporting, analytics, forecasts, and marketing/sales trends. It also uses analyzed data to create big-picture visualizations for executive presentations and large-scale company decision meetings.
Along with its AI capabilities, InsightSquared also includes the standard customizable reports and dashboards of many of the above sales reporting solutions.
Features:
Automated sales forecasting

Revenue analytics and dashboards

Interactive pipeline management

Activity-capture software

Conversational intelligence tools (i.e. call recording)

Guided sales coaching

Native integrations
Free trial/Demo: Demo available.
Intercom is primarily a customer engagement platform, but their background customer data analytics land them on our list. With strong business intelligence features, Intercom tracks lead, prospect, and customer behavior before generating automated segmentation suggestions.
Designed for companies of all sizes, Intercom combines conversational intelligence and customer interaction with fast behavior analytics to help teams make informed marketing and targeting decisions.
Features:
Account-based marketing

Native integrations

Customer data analysis

Mobile app

Businesses management tools

Customizable bots and automations
Free trial/Demo: Demo available.
Start using sales reporting software today
If your data is ready to talk, you need a way to listen. Start using sales reporting software as soon as possible and give your data a platform to speak. With fast, accurate sales reporting, your data becomes a trusted advisor for future decisions and daily tactics.
Request a demo of Zendesk Sell today and pass your data the megaphone. You'll want to hear what it has to tell you.