Sales productivity tools guide
Give your sales team the tools to simplify their workflow and blow past quotas.
A guide to the best sales productivity tools
更新日: May 3, 2023
If you're looking for ways to make your business thrive without overwhelming your budget, you may need to implement some new technology. But knowing where to begin is a challenge. In this comprehensive guide, we'll go over some of the best time-saving and productivity-boosting software tools on the market.
Below, we'll answer some of the most basic questions about sales production applications, including:
What are sales productivity tools?
A sales productivity tool is any piece of software for sales teams that helps boost their efficiency and close more deals. There are a lot of tasks involved in the sales process. So there are obviously many different apps for sales teams designed to improve productivity.
From onboarding and training new salespeople, to emailing prospects, to tracking KPIs, sales productivity software helps sales teams build a stronger and more profitable sales process.
Why is sales productivity important?
Sales productivity is vital because it means making the most of the time and resources you have. Resources are easily wasted if your process is undefined and your inboxes cluttered with emails. And if too much gets wasted, it could end up hurting the business beyond repair.
It also ensures that your sales team is using their time and resources wisely. Which lets them close more deals with fewer mistakes, holdups, and headaches.
Must-see statistics
Need the proof in numbers? Here are some statistics:
New sales hires typically take 11 months of training until they're considered fully productive. (Sales Management Association)

Salespeople typically spend only a third of their day talking to prospects. The rest is spent writing emails, data entry, scheduling calls, and other non-revenue generating tasks. (HubSpot)

49% of organizations have limited or no means of measuring and tracking sales productivity—which means they don't even know where to begin improving. (Salesforce)
Implementing new software is a big commitment that many businesses are afraid to make. People can be resistant to change, or scared of learning a new technology. But the proof is there—better productiveness is there for the taking. You just need to be up to the challenge.
Why do you need sales productivity tools?
Businesses need sales productivity software because today's customers are used to having their needs met quickly. These sales tools enable sales teams to act fast by building a systematic, repeatable process. One that can be put into action the moment it's needed. It isn't about putting the sales cycle on autopilot—it's just about saving time, simplifying tasks, and clearing out the clutter.
With their daily activities arranged in a more organized way, as well as instant access to the most critical information, sales teams are better able to respond to client needs. Additionally, sales productivity platforms are extremely useful in speeding up the process of coaching new sales hires up to full speed. You can maximize the human talent that drives sales.
What are different types of sales productivity tools?
Customer relationship management

Expected to reach $80 billion in revenue by 2025, CRM is a huge player in the software industry right now. And it's no wonder why—customer relationship management is turning into a wildly popular tool for boosting worker productivity.

A CRM platform provides users with a single, accurate source of truth for all of their customer data. It allows users from across departments to access and share insightful customer information, so they can craft personalized messaging that builds lasting customer relationships. The best CRMs also come with other incredibly useful features for boosting efficiency and output. Features like pipeline building, email marketing, and mobile CRM for a remote team or field work.

Meeting scheduler

Scheduling a meeting should be easy—but too often it can turn into a never-ending back-and-forth email exchange that clogs up your inbox. Scheduling software gives sales agents an easier way to set up meetings with clients and leads.

Scheduling tools let users click on a link to view available time slots. They select the slot that works for them, and the sales representative's calendar is automatically updated. There are no endless emails or double bookings, and customers (and salespeople) are glad they didn't have to suffer through the endless email chain.

Lead generation

Lead generation tools help score and segment leads so your team can spend their efforts with the leads most likely to buy. These tools can also perform internet searches to find new qualifying leads, saving salespeople from hours of manual research.

When it comes to lead generation, automation is the true game-changer. From automating email follow-ups to automatically capturing lead information, this tool is critical for gathering contacts to populate your pipeline.

Payment processing

These tools help businesses safely and quickly process their payments. They let customers pay for products and services with credit card, direct deposit, debit card, and other non-cash payment methods. Then easily integrate with your finance tracking and accounting software so you know your numbers are correct.

Communication & collaboration

Teams need ways to work together toward a common goal. But that's easier said than done, especially when they're working remotely. Communication and collaboration tools help teams stay on the same page no matter where they are. There are tools for sharing up-to-date documents and data, holding virtual meetings, and tracking activities to completion.

Sales Force Automation

Automate tasks based on input, or schedule tasks to be automatically completed in the future and at recurring intervals. You can instantly create reports with a single click, and run sales forecasts to get accurate predictions of future revenue.
20 best sales productivity tools
Zendesk Sell is an all-in-one sales CRM and sales tracking software platform. It was designed to help companies close deals faster and build strong, lasting customer relationships—without tons of effort or money. Users love Zendesk for its clean interface and simple navigation options, which make adoption faster and simpler than some other platforms.
Zendesk features a visible sales pipeline platform, so users always have a clean framework for tracking leads and sales activities. It also employs an email intelligence feature to track interaction and notify reps when it's time to follow up. That way no lead slips through the cracks. And with tools for automating repetitive tasks like data entry, Zendesk helps reps focus more time and effort on closing deals. Even while the software continues to drive engagement and communication.
Features:
CRM platform

Sales dashboard

Contract management system

Lead generation

Meeting management

Communication and collaboration tools

Payment processing app integration
Salesforce is a popular cloud-based hardware and software-free CRM tool that replaces spreadsheets with a simple dashboard display of sales information.
Salesforce tracks sales calls, emails, and meetings to keep reps organized and up-to-date with tasks. It also gathers data and uses it to prioritize open cases with the most potential. Users have the option to automate repetitive tasks to stay focused on closing deals.
Features:
CRM

Email Monitoring

Reporting/Analytics

Mobile app

Data capture and transfer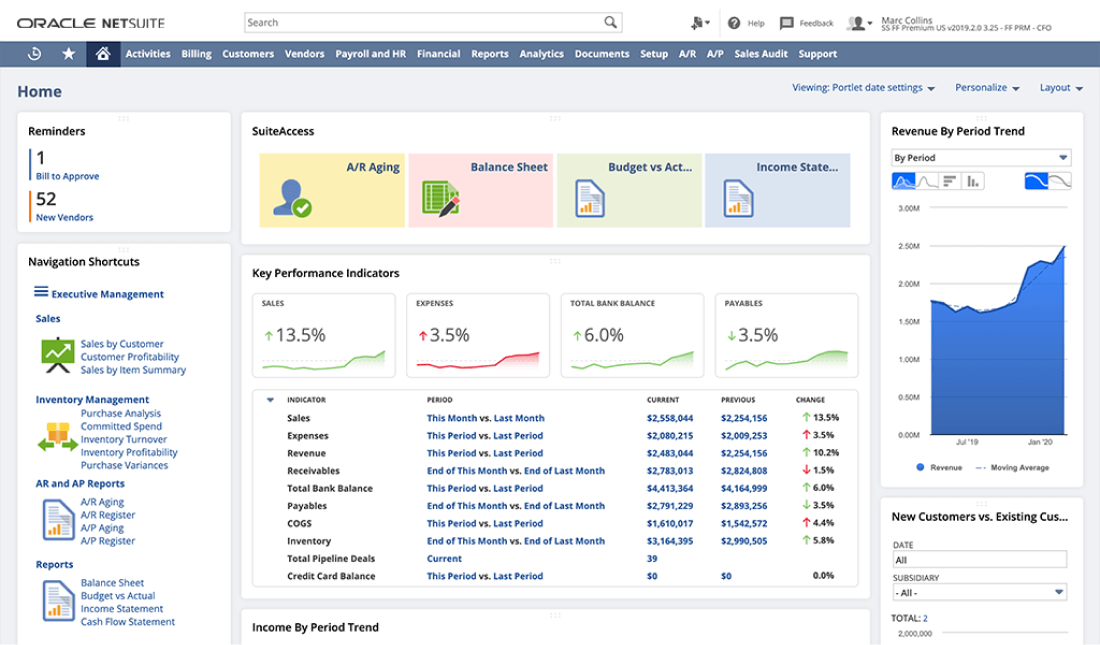 NetSuite is another cloud-based tool that aims to give users a complete look at all customer data. Their 360 degree customer view pinpoints exactly where each customer is in their lifecycle, so reps can track progress at a glance.
NetSuite is designed specifically for small- to mid-sized manufacturing businesses. Favorite user features include its powerful business intelligence tools, as well as its reporting features. Users can also open a dashboard to see all consumer interactions and transactions, pending sales, overdue invoices, and service issues.
Features:
CRM dashboard

Lead qualification

Task management

Email marketing

Calendar/reminder system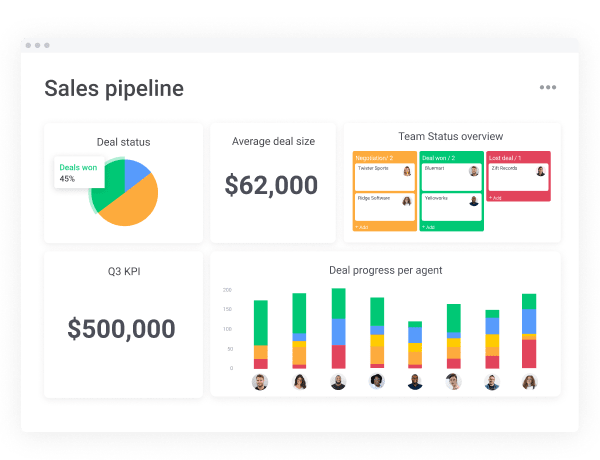 Monday.com is a visual sales and CRM platform that's all about customization. Users can drag and drop actions to create their company's sales pipeline, and then monitor customers as they journey through.
Monday.com keeps all customer data and communication tracking on a single dashboard. It also offers the option to capture leads through linking the platform to social media campaigns. Flexible and functionable, Monday.com users appreciate its easy-to-program automations and notifications.
Features:
Activity dashboard

Forms creation and design

Forecasting

Lead management

Pipeline management

Self-service options
Hubspot is a CRM-based platform that offers users various interconnected "hubs" for the areas of marketing, sales, service, content management, and operations.
The hub for sales includes a CRM dashboard, which keeps track of all customers and monitors their journey along the sales pipeline. This hub also offers meeting scheduling and quotes for leads, cutting down on hours spent on administrative tasks. Plus, Hubspot's marketing hub gathers data with the aim to convert leads into customers.
Features:
Contact management

Client tracking

Lead nurturing

Performance metrics

Referral Tracking
Pipedrive's main focus is tracking leads and nudging them along the user's sales pipeline. A user's first step in setting up Pipedrive is using a drag and drop feature, or a premade template, to customize the business' sales pipeline.
Set schedules and notifications to take certain sales actions, and track progress towards business goals. Pipedrive users especially like how easy it is to set reminders for following up with clients. That way they can act on leads before they go cold.
Features:
Alerts/Notifications

Client Tracking

Calendar/Reminder system

Lead Nurturing

Meeting management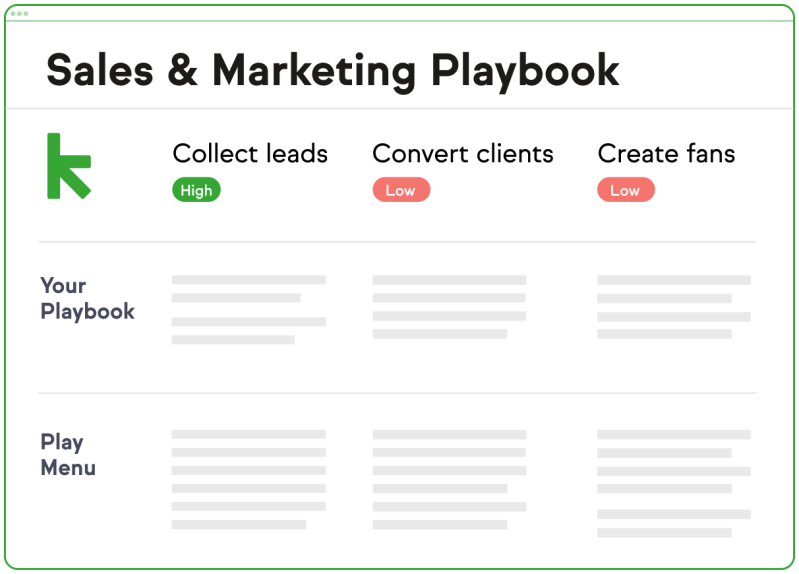 Keap is a CRM platform formatted to take tedious and repetitive tasks off user's plates so they can focus on sales. Choose custom automations, such as sending an introductory email automatically when a lead fills out a web form. Then you can engage with customers hands-free.
Keap also uses premade templates to make it easy for customers to pay invoices and sends reminders about outstanding bills.
Features:
Sales and marketing automation

CRM dashboard

Lead capture

Personalized communication

Payment tools
Nutshell, designed specifically for B2B transactions, is an all-in-one platform that focuses on CRM and email management. By connecting email marketing and customer data, Nutshell allows the user to design automated emails. It then tracks the activity and impact of these emails.
Nutshell also allows users to design a customized sales process so they can sell according to their unique rules. It also has tools that let team members chat internally, which helps teams avoid costly miscommunication.
Features:
Subscriber management

Internal chat integration

Marketing automation

Analytics

Calendar/Reminder system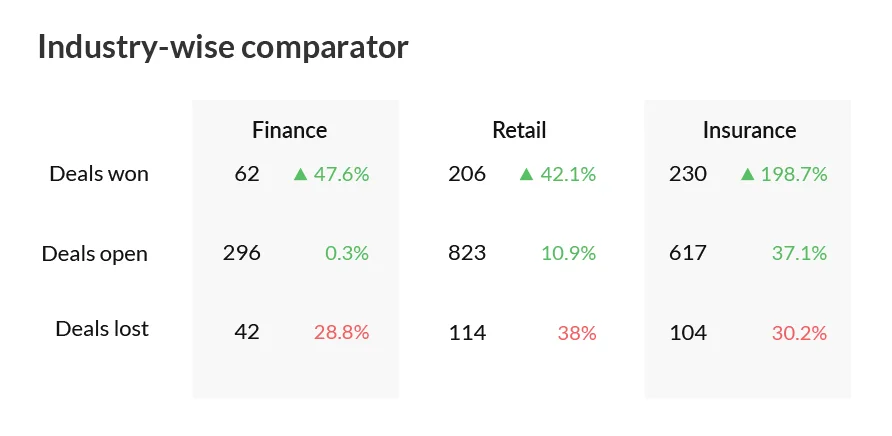 Zoho is a CRM tool that uses customer data, a customized sales pipeline, and AI technology to make sales simpler. Users especially like Zoho's AI-powered conversational assistant, which can engage with customers even when every sales rep is busy with other tasks.
Zoho uses their omnichannel feature to make it possible for users to communicate across email, phone, live chat, and social media, all in one location. It also notifies users in real time when customers or leads interact with their content, so they can pursue leads while they're hot.
Features:
Conversational AI

Goal management

Analytics/Reporting

Automated communication

Interaction tracking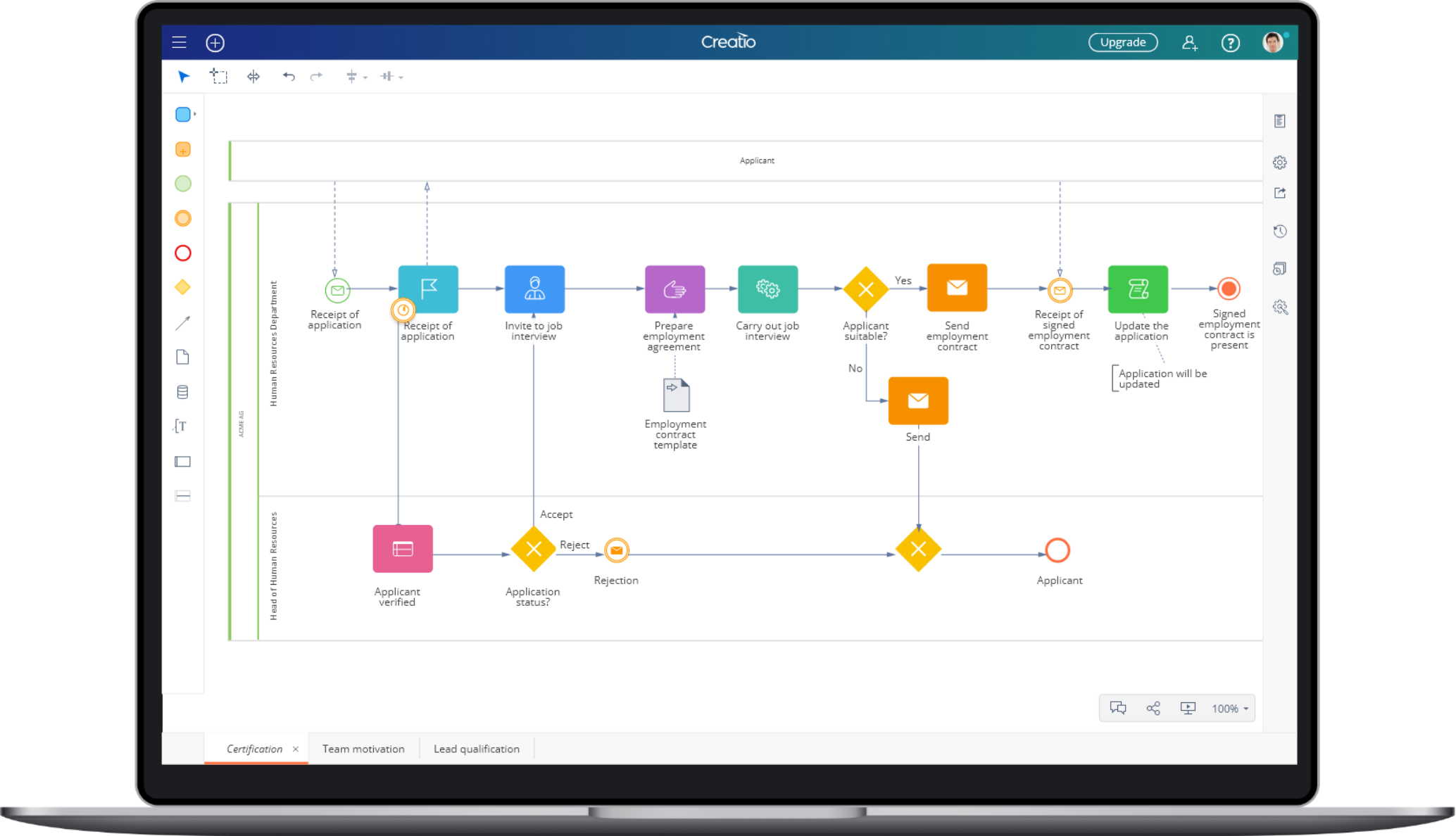 Creatio is a low-code platform that uses sales force automation technology to streamline a business's sales process. By automating sales processes, the platform aims to make sales faster and more efficient.
Creatio allows the user to view sales data and create goals within the platform. But Creatio's most popular feature is probably its low-code customization option, which allows businesses to truly tailor their customer journey according to their brand style and voice.
Features:
Sales forecasting

Lead tracking

Pipeline management

Internal chat integration

Marketing automation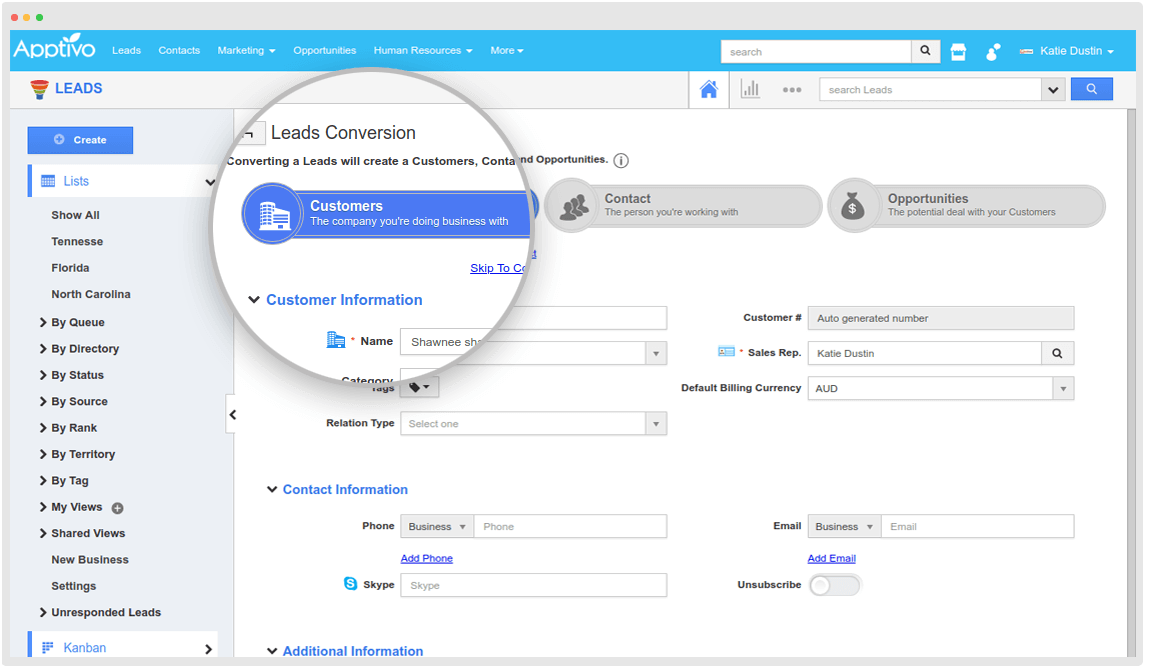 Apptivo is a cloud-based suite of over sixty-five integrated apps. Its CRM app allows users to view customer and performance data, as well as a visual sales pipeline, from any device.
Apptivo employs marketing automations to capture leads quickly so sales reps can get to the good stuff—making sales. They also save time by using workflow automation to avoid entering sales and customer data by hand, which steals valuable time away from revenue-generating tasks.
Features:
Business app integration

Lead generation

Marketing automation

Mobile access

Calendar/Reminder system
Quickbase is a no-code platform that focuses on identifying defects and cutting down on administrative errors through data gathering. Quickbase allows users to customize their business processes, and then automate the ones that are repetitive.
Quickbook connects to and integrates data from tools like Gmail and Google Drive. Users especially appreciate the platform's intuitive UI/UX, which allows for easy adoption even with teams that are less technologically capable.
Features:
Billing and invoicing

Collaboration tools

Business app integration

Workflow management

Lead management
Copper is a platform specifically built for Google Workspace, and features easy integration of G Suite apps like Gmail, Google Calendar, and others. But even though it's designed for G Suite users, it also boasts easy integration of other business apps like Slack, LinkedIn, and MailChimp.
The platform offers a visual and customizable sales pipeline. Track customers' lifecycles, send alerts and reminders when it is time to reach out to a customer or potential lead. Easily record customer data that other users can view in real-time.
Features:
Contact Database

Performance metrics

Meeting management

Email response control

Sales forecasting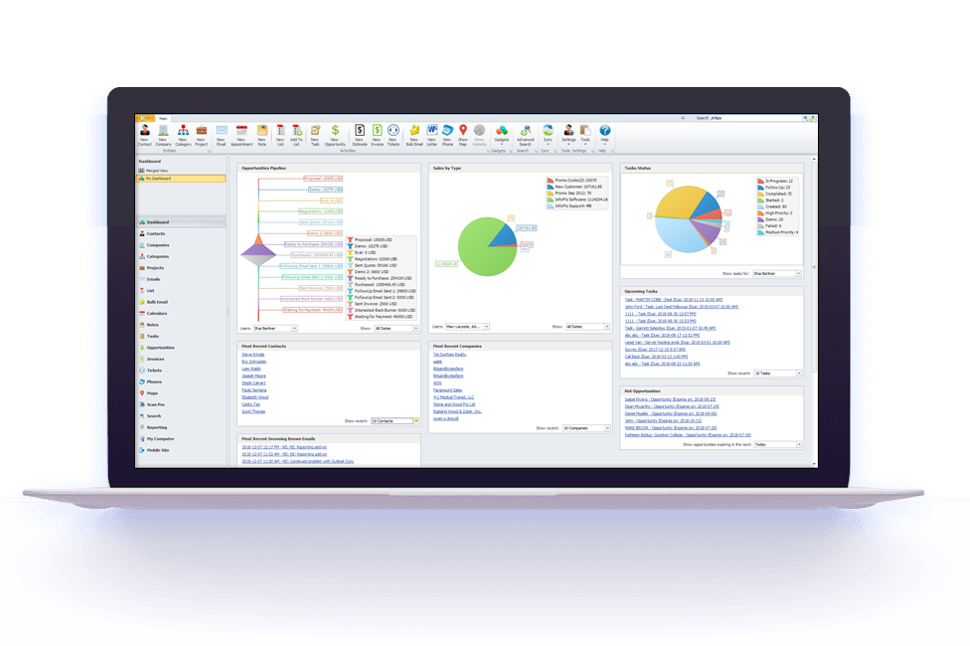 InfoFlo markets itself as an all-in-one CRM platform to be purchased all at once, rather than on a monthly subscription. It's a sales productivity platform that offers add-ons such as Google, Outlook, and Quickbooks for easy integration.
Along with CRM basics, InfoFlo offers features meant to make the sales pipeline as smooth as possible, like project management and phone system integration. It also features one-click information sharing to boost collaboration between team members, so fewer balls get dropped due to miscommunication.
Features:
Business app integration

Call logging

Contact management

Telemarketing management

Queue management
Insightly is a sales solution and CRM platform that helps businesses unite each stage of the customer journey, from lead generation through marketing, to closing the deal. Users appreciate Insightly's minimalistic design, which makes navigating around the app relatively easy.
One of Insightly's most popular sales tools is its lead routing feature. This function captures data from marketing campaigns and email tracking, and routes it directly to potential leads. Reps are then immediately notified so they can respond in real time.
Features:
Lead qualification

Calendar/Reminder system

Email marketing

Task management

Mobile access
SugarCRM is a marketing, sales, and customer service platform aimed at automatically collecting data and presenting it to users with easy-to-understand context.
SugarCRMs customer experience tools allow reps to pull customer data from many different channels at once. Automate repetitive or complex actions for massive time-saving benefits, and utilize its features to find cross-selling and upselling opportunities, as well as at-risk accounts.
Features:
Sales Pipeline Management

Workflow automation

Sales forecasting

Customer database

Marketing automation
Salesmate is a designed specifically to help companies make sales faster and with less run-around. Users save time by employing the smart email tool to design and automate personalized communications, which allow businesses to build closer connections with their customer base.
Salesmate lets users create multiple sales pipelines, so they can keep an eye on the health of each deal in real time. They also recently added a new meeting scheduler tool to cut down on back and forth scheduling emails.
Features:
Meeting scheduler

Workflow automation

Lead distribution

Pipeline management

Sales analytics
Less Annoying CRM is an app built specifically for small businesses and independent contractors to keep them on top of their sales and customer service. And as the name implies, their goal is to make the CRM experience as stress-free as possible.
Less Annoying CRM offers a simple database of all customers and leads, letting the user access contact information along with any notes about the last communication. The platform also includes collaboration tools for information sharing within a team.
Features:
Client management

Relationship tracking

Lead nurturing

Collaboration tools

Interaction tracking
Pipeliner CRM makes sales and predictability highly visible. Users like Pipeline for its visual relationship maps, which demystifies relationships and networks between contacts and leads.
Pipeliner promises a high adoption rate and fast ROI. They also recently released an email sequence feature that allows users to plan out then execute an email campaign using data and automated actions. Now sales professionals can sharpen their sales engagement with clients even when they're busy elsewhere.
Features:
Lead qualification

Mobile access

Internal chat integration

Marketing automation

Task Management
Thryv is a software platform that offers an array of ready-to-use business apps geared towards small businesses and independent contractors. The platform keeps a customer database for easy storage and access to client contact data, and allows for multi-channel communication.
Thryv offers tools for users and customers to easily schedule meetings or services. It includes a tool through which customers can make secure mobile payments. Automated follow-up emails and requests for online reviews also help companies build up an engaged contact base.
Features:
Contact management

Billing portal

Job scheduling

Lead management

Pipeline management
How to choose the right sales productivity software for your business?
First, examine your sales process and ask yourself which steps are generating the most problems. Where are the bottlenecks in your pipeline happening? Where are leads dropping out of the funnel? What administrative tasks are eating up the most amount of sales reps' time? Asking these questions will lead you to decide which tools will best help you increase output.
Fortunately, there are a lot of options for sales productivity applications. But with many options comes harder decisions. The best way to know if a platform is right for you is to try it. Many SaaS providers will offer free trials to let you test drive their features. If you can commit at least two weeks to testing out a new platform, you'll be much more likely to successfully adopt your new platform and make the most of its features.
Ready to boost your sales productivity?
The developers at Zendesk know that learning new software can be overwhelming, especially if you're trying to learn multiple sales tools at once. Zendesk Sell offers a 14-day free trial that lets you test drive their collection of features. Which all come conveniently located on a single, industry-leading, user-friendly platform.
Zendesk is an especially powerful small business CRM that helps sales teams make the most of their resources. Test drive Zendesk Sell today, and get a feel for how comfortable working at maximum capacity can be.
We have more information about this. Have a look below.
There's a lot more where this came from. Keep exploring the world of sales productivity tools.