Zendesk vs. Help Scout
Don't get stuck with a basic ticketing system–whether you're a small, medium, or enterprise business, you need support software that grows with you. See why leading brands choose Zendesk vs. Help Scout.
Zendesk vs. Help Scout: A comprehensive guide
更新日: November 20, 2023
In today's competitive landscape, customer service has become a critical differentiator among businesses, driving customer loyalty and generating profits. As underscored by a recent Zendesk survey, 76 percent of business leaders are looking to rely more on customer experience (CX) teams for customer retention, while 70 percent expect agents to take on broader roles and responsibilities.
To meet expanding business demands, CX teams need support software built for growth. While Help Scout offers a basic ticketing system, it's missing critical capabilities to set you up for success both now and in the future. Unlike Help Scout, Zendesk offers a complete customer service solution that's designed to absorb new teams, divisions, and global customer bases. With unmatched CX expertise, scalability, and exceptional support, Zendesk delivers a significant return on investment while reducing overall costs.
Here's a deeper look into the three pivotal reasons why businesses prefer Zendesk over Help Scout.
CX expertise
We empower you with our thought leadership and community of CX experts. While Help Scout has a customer base of approximately 12,000, Zendesk helps 160,000+ businesses deliver great CX, solidifying our status as a leader in the market.
Scalability
With Zendesk, there's no need to change solutions as you grow. But this isn't the case with Help Scout—users report that the platform struggles to accommodate businesses looking to scale. As a result, they're forced to migrate to a more mature solution, which drives up costs.
Quality support
As a trusted partner, we provide an array of support resources, such as training and dedicated account management. On the other hand, Help Scout doesn't offer a customer community and its dedicated success resources are limited.
Read on to compare Zendesk and Help Scout features and pricing plans and see why successful brands switched from Help Scout to Zendesk.
More in this guide:
At-a-glance comparison: Zendesk vs. Help Scout
See how Zendesk compares to Help Scout on critical CX capabilities in the chart below.
| What you need to deliver the best customer experience | Critical capabilities | Zendesk | Help Scout |
| --- | --- | --- | --- |
| Vendor performance | Analyst rating | Leader | Visionary |
| | Focus | Customer service | Customer service |
| | High customer satisfaction at scale | ✔ | ✘ |
| Fast time to value and low cost of ownership | Easy to set up | ✔ | ✔ |
| | Easy to use | ✔ | ✔ |
| | Low implementation cost | ✔ | ✔ |
| | Low short-term TCO | ✔ | ✔ |
| | Long-term value | ✔ | ✘ |
| | Low long-term TCO | ✔ | ✘ |
| Unified omnichannel experience | Unified omnichannel status + workflows | ✔ | ✔ |
| | Unified omnichannel customer experience | ✔ | ✘ |
| | Unified omnichannel agent interface | ✔ | ✘ |
| | Unified omnichannel analytics | ✔ | ✘ |
| | Native voice solution | ✔ | ✘ |
| | 3rd-party voice integrations | ✔ | ✘ |
| | Social messaging integrations | ✔ | ✘ |
| Frictionless agent experience | Real-time agent workspace | ✔ | ✘ |
| | Customizable agent workspace | ✔ | ✘ |
| | Threaded collaboration | ✔ | ✘ |
| | Side conversations | ✔ | ✘ |
| Powerful workflow / automation tools | Sophisticated automation + workflows (SLAs, OLAs) | ✔ | ✘ |
| | Flexible agent routing | ✔ | ✔ |
| | Intelligent triage | ✔ | ✘ |
| | Intelligent self-service content gap identification | ✔ | ✘ |
| | Sophisticated self-service content management + workflows | ✔ | ✘ |
| Actionable insights | Custom metrics | ✔ | ✘ |
| | Custom reports | ✔ | ✘ |
| | Custom dashboards | ✔ | ✘ |
| | Custom attribution | ✔ | ✘ |
| | Custom correlation | ✔ | ✘ |
| Robust integrations | Highly rated integrations | ✔ | ✘ |
| | Reliability | ✔ | ✘ |
| | Customer proof points | ✔ | ✘ |
| | Broad set of API endpoints | ✔ | ✘ |
| | Broad apps marketplace | 1,300+ | ~90 |
| Quality support | Leading customer community + events | ✔ | ✘ |
| | Support | ✔ | ✔ |
| | Designated success team | ✔ | Limited |
| | Local account resources | ✔ | ✘ |
| Reliable + secure platform | Reliability + scalability | ✔ | ✘ |
| | HIPAA enabled | ✔ | ✔ |
| | Data locality | ✔ | ✔ |
| | 3-tiered GDPR protection | ✔ | ✘ |
What others are saying
Zendesk holds the #1 spot in three prestigious customer service software categories: Best Software Product, Best Customer Service Product, and Product for Mid-Market, as recognized by G2. Zendesk has over 5,600 reviews on G2 while Help Scout has fewer than 400, which is important to keep in mind when doing a side-by-side comparison.
Here is what some of the recent G2 reviewers had to say about Zendesk:
"We're really happy with the integrated email and chat dashboard for our agents (Agent Workspace) and the ability to manage useful reporting, automated responses, and [bot] resolutions. The SLA functionality also helps agents stay focused with 'top-of-the-bucket' prioritization so they don't have to spend cycles trying to figure out which ticket is most important, or lose track of tickets in the queue."
— Dan R., mid-market (51–1,000 employees)
"Zendesk Support allows all the necessary features with an easy-to-learn interface in order to work on the cases or Customer Support System. Zendesk enables its users with various features like follow-up reminders, integration with other apps, and creating related tickets for internal teams for further actions and efficient followup on ongoing cases."
— Rajesh T., enterprise (more than 1,000 employees)
"Zendesk has been fairly easy to pick up and do basic things with. Their usability is better than most other ticket systems I have used. Their support during difficulties has been superb and responsive, no matter how complicated or in-depth the issue might prove to be. They also have responded far faster than their chatbot suggests they will. My last experience with Fritz went beautifully and I had my issue resolved within 15 minutes."
— Erica S., small business (50 or fewer employees)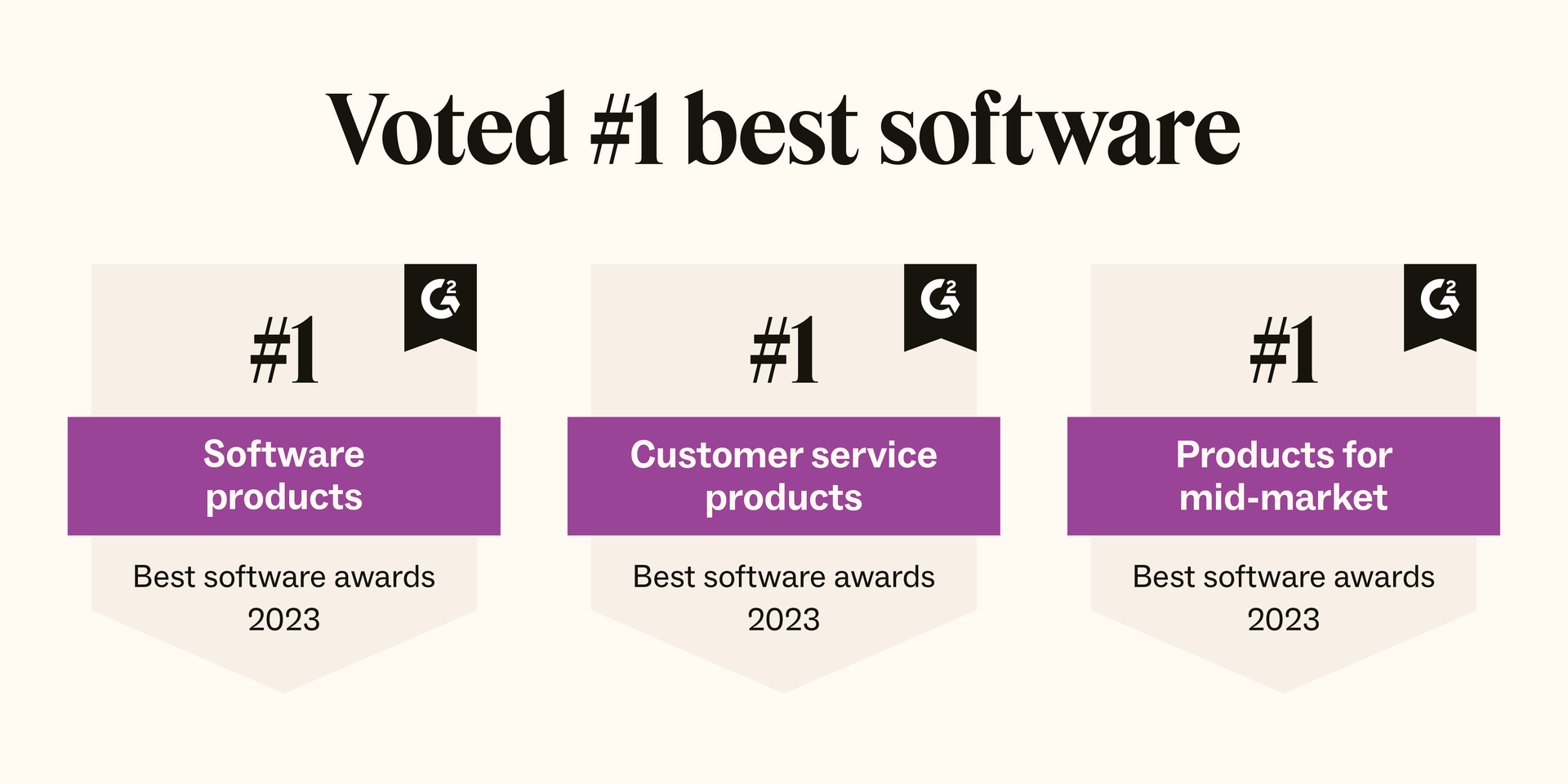 Zendesk vs. Help Scout: Features comparison
Here are nine features to consider when choosing between Help Scout vs. Zendesk. Our research is based on extensive analysis by the Zendesk product team, some of our customers' experiences with both platforms, and user reviews.
1. Reporting and analytics
With robust reporting and analytics, customer experience teams can access customer insights and key performance indicators (KPIs) to optimize their operations, improve team productivity, and gain a deeper understanding of their customers.
Zendesk reporting and analytics empowers you to assess and elevate your entire customer experience through features such as:
Unified reporting: Integrate data from every channel and measure customer interactions with your brand seamlessly.

Real-time and historical data: Access powerful reporting to understand past trends and take action on what's happening in the moment.

Pre-built dashboards: Evaluate your service and sales performance with ready-made dashboards, featuring best practice metrics for customer service.

Customizable dashboards and charts: Enjoy the flexibility of thousands of customization options for metrics, charts, filters, and dashboards through an intuitive point-and-click experience.

Sharing and collaboration: Keep team members and stakeholders informed by sharing and scheduling relevant dashboards and reports, so you can increase awareness of crucial insights and trends.
On the other hand, Help Scout's reporting has certain limitations. Although Help Scout provides a few standard dashboards, it doesn't provide real-time reporting capabilities or allow you to attribute and correlate your metrics. Additionally, the absence of custom dashboards, metrics, and reports as well as scheduled reports requires users to manually input data, download reports, and distribute reports. User reviews from G2 also point to instances where the reports were incorrect. These tradeoffs can cause operationally inefficiency, such as a lack of insight into what's causing key customer issues.
2. SLA management
Providing support based on service levels ensures that you're delivering measured and predictable service. Zendesk has robust service-level agreements (SLAs) features to empower teams to monitor and report on both SLAs and operational level agreements (OLAs). You can define service targets for seven different metrics, which include reply time and resolution time metrics. And when generating reports, you can filter the data by time, priority, and more.
Conversely, Help Scout doesn't offer a dedicated SLA feature, requiring users to resort to a workaround. This limitation can make it challenging to establish clear objectives for your customer support team and codify policies regarding how quickly agents must respond to and resolve issues.
3. Knowledge base and self-service
Self-service options, like a comprehensive knowledge base, provide customers with 24/7 access to answers, reducing your team's workload.
With advanced knowledge management tools, your team can effortlessly update and scale your help center. For example, Zendesk makes it easy to:
Share AI-powered article recommendations inside support tickets, flag old content for improvements, and draft new knowledge base articles.

See which content serves customers the best and what to remove from your knowledge base with AI-powered Content Cues.

Create, manage, and update content that lives across multiple articles and help centers all at once with content blocks.

Offer in-context self-service inside your product or on your website with the Web Widget and Mobile SDK.

Embrace full control and flexibility over the way your help center looks with customizable themes.
Although Help Scout provides knowledge base software, it lacks advanced content management capabilities, which can make it difficult to scale your help center. For example, one user review explains, "You can ask your visitors to rate your help center articles but you can never see a report on those ratings." Unlike Zendesk, Help Scout also doesn't offer an authenticated customer portal, meaning that teams can't flag articles for customers only.
4. Integrations and 360-degree customer view
Integrating your systems for a 360 customer view streamlines data so teams can serve customers more efficiently, enhance the customer experience, and personalize customer conversations at scale.
Zendesk provides 1,000+ pre-built apps and integrations in the Zendesk Marketplace, designed to connect with the most popular systems for a frictionless agent experience. For instance, by integrating Zendesk with Shopify, agents can access billing, shipping, and order information—all without leaving their workspace.
What's more, within the Zendesk Agent Workspace, agents receive real-time notifications as stakeholders from various departments discuss issues, regardless of their preferred platform—be it Slack, Microsoft Teams, or another communication channel. Additionally, support tickets can be linked and created on platforms such as Jira, Trello, and Asana.
In contrast, Help Scout offers around 90 pre-built apps and integrations in its marketplace, and some of these integrations come with limitations. For example, the Help Scout and Jira integration doesn't permit ticket updates from within Jira. Likewise, the Slack integration only allows for information and notifications to be pushed to Slack channels, which can impede collaboration. Here's what one user had to say:
"Ironically, the simplicity of Help Scout is also the worst part. There are not many app integrations, and a lot of their functions are relatively new."
5. Unified omnichannel experience
Unified omnichannel support connects conversation history and customer context across all channels for consistent and personalized service. A staggering 70 percent of consumers say they're more likely to purchase from brands that offer this kind of seamless conversational experience.
Zendesk offers a native omnichannel solution, unifying all your support channels within one conversational interface. Agents receive live updates on incoming messages, empowering them to respond in real time across email, chat, voice, and social messaging platforms. Equipped with key customer details, agents are able to deliver fast, tailored support regardless of how the customer chooses to communicate. This streamlined approach eliminates the need for switching between systems or asking customers to repeat information, subsequently saving your team time and driving down costs. See our Agent Workspace in action below.
Jonathan Bolton, SVP of operations at BathBomb, attests to the efficacy of the Zendesk Agent Workspace:
"Our customers reach out to us across several channels—including email, chat, and phone—and we want to make sure they're always able to use their preferred channel. With Agent Workspace, we're able to unify these channels in one place, enabling our support team to offer contextual, personalized experiences; this has significantly contributed to our 98 percent CSAT."
In comparison, Help Scout falls short in delivering a comprehensive omnichannel experience. While the software provides native email support, it lacks a native voice solution or a fully integrated computer telephony integration (CTI), and it doesn't support integrated social channels.
6. Chat and digital messaging
Messaging has benefits for both customers and businesses: It's convenient, fast, scalable, and secure.
With Zendesk, you can add messaging and live chat to your website or mobile app, popular social channels like WhatsApp for Business and Messenger, and business productivity tools such as Slack. Some Zendesk messaging features include:
Proactive messaging: Get ahead of customer issues with outbound notifications on WhatsApp and SMS to drive customer engagement and prevent escalations.

Third-party integrations: Use rich messaging integrations, such as live location maps or custom bots, to enable customers to self-serve from within the conversation.

Group messaging: Connect all parties so interactions run more efficiently.
While Help Scout supports live chat on your website or in your app, the only integrated social channel Help Scout offers is Facebook, and that requires Zapier. This makes it more challenging to serve customers over convenient messaging channels, which can impact satisfaction, as 7 out of 10 consumers would like to message a business.
7. Automation and AI
The Zendesk Customer Experience Trends Report found that a whopping 74 percent of customers believe AI will enhance customer service efficiency, and most business leaders agree. In fact, 72 percent of them plan to prioritize the expansion of AI throughout the customer experience in the upcoming year.
Zendesk presents a sophisticated yet easy-to-implement AI solution that eliminates the need for developers, substantial IT investments, or lengthy lead times. The solution is grounded on real service interactions and is intuitively designed for agents—plus, it's conveniently available alongside all their tools in one unified workspace. Our proprietary models also get smarter over time for continuous improvement.
With Zendesk bots, AI feels like an extension of your team. Bots anticipate needs, promote self-service, and provide instant answers to every customer.
Zendesk also provides generative AI features for agents. Some of these capabilities include:
Detecting customer intent and sentiment and suggesting appropriate responses to agents, so agents can effectively handle the interaction.

Triaging conversations and smoothing workflows to reduce manual sorting and prioritization.
Although Help Scout has a chatbot, it's typically not used for advanced use cases. Help Scout even suggests that businesses don't need an AI chatbot. Most of its AI features are also in beta, meaning that there may be some inaccuracy as Help Scout works to improve quality.
8. Customizable, user-friendly workflows
One of the best ways to increase agent efficiency and streamline your support tasks is to automate your ticket workflows.
Zendesk offers a highly customizable approach to designing automated workflows that align with your business objectives. You can optimize ticket workflows in Zendesk by:
Defining SLA policies to help you keep tickets moving and meet customer expectations.

Using triggers and automations to streamline routing and free agents from repetitive tasks.

Using custom views to monitor progress and measure outcomes.

Leveraging macros (prewritten responses) to provide consistent answers and keep agent overhead to a minimum.
Help Scout's workflows focus on internal tracking, organization, and automating responses or notifications. But as previously mentioned, Help Scout doesn't offer SLAs and users can't customize views.
9. Email and case management
Effective customer service case management is important for ensuring teams can efficiently handle, route, resolve, and report on customer issues. Zendesk offers several key case management features for better support over email, chat, messaging, and the phone:
A unified interface encompassing all ticket information

Extensive SLA capabilities

The ability to create parent-child ticket relationships for incident linking and bulk updating

Side conversations (Spaces in a ticket where agents can have a side conversation with a specific group of people) to drive efficiency for solving tickets
See side conversations in action below.
Case management with Help Scout, on the other hand, has certain limitations. For instance, @mentions are exclusively available for internal collaboration, and issue linking can only be done through tagging and sub-tagging. While agents can update the status of multiple tickets simultaneously, they're unable to send mass responses to tickets.
Pricing plans: Help Scout vs. Zendesk
Overall, Zendesk has a lower total cost of ownership than Help Scout. Unlike Help Scout users, Zendesk customers avoid switching costs thanks to our more mature software, a highly rated app marketplace, native integrations, and scaled support and success operations.
But don't take it from us—take it from Forrester. The Forrester Consulting Total Economic Impact™ (TEI) study showed that Zendesk customers experienced a 286 percent return on investment over three years.
See how Zendesk pricing plans compare to Help Scout's in the table below.
Cost
Zendesk
Help Scout

License plans

Support Team: $19 per agent/month

Support Professional: $55 per agent/month

Support Enterprise: $115 per agent/month

Zendesk for Startups: 6 months free

*Pricing plans billed annually

Standard: $20 per user/month

Plus: $40 per user/month

Pro: $65 per user/month

Help Scout for Startups: 6 months free

*Pricing plans billed annually

Implementation cost

Low

Low

Cost to serve

Low

High (due to lack of integrated omnichannel support + robust self-service)

Cost of efficiency gaps

Low

High (due to lack of powerful agent + workflow automation tools)

Cost of customer experience gaps

Low

High (due to lack of omnichannel support + efficiency)

Cost of scalability gaps

Low

High (due to product + support gaps)

Total cost of ownership

Low

High
Brands that chose Zendesk over Help Scout
Challenges in scalability, difficulties in reporting, and insufficient visibility into customer interactions are just some of the reasons prompting companies to switch from Help Scout to Zendesk. Here are five organizations that not only adopted Zendesk but also experienced an enhanced return on investment as a result.
HeliosX
HeliosX desired a solution that could power its long-term growth, provide powerful reporting, and set up quickly and easily—prompting the company to choose Zendesk over Help Scout.
"The way we could just create flows and automations was so much easier than it would have been through Freshdesk or Help Scout. I wanted to get the system up and running quickly, and Zendesk was the better tool for being able to make changes at speed," said Fabrice Dowling, global head of customer care at HeliosX.
The proof is in the pudding: Choosing Zendesk resulted in a 50 percent reduction in staffing costs and a CSAT of 96 percent (up from an average of 89 percent.)
Missouri Star Quilt Company
Before Zendesk, Missouri Star Quilt had tried other customer service solutions—namely Help Scout and LiveAgent—but didn't get the required results. Some of the biggest problems the business experienced before Zendesk were dropped calls and reporting visibility.
"We weren't actually able to get to all the calls, to reach people," said Wendi Mills, customer service manager at Missouri Star Quilt Company. "We didn't get good insight into customer conversations. I wanted to know the customer's journey. I wanted to see how many times they contacted us. I also wanted the capability to see notes and to grow live chat."
To address these challenges and meet their goals, Missouri Star Quilt turned to Zendesk.
Since adopting Zendesk solutions, Missouri Star Quilt has seen its answer rate for customer service calls improve by 30 percent to a rate of 95 percent, and its customer satisfaction rating regularly hits 97 percent.
CircleCI
CircleCI implemented Zendesk after trying a few other products for short periods of time, including Help Scout. The company was looking for support software that encouraged collaboration and prevented collision—key because the technical support team is 100 percent remote, working from locations across the world.
One of the first changes CircleCI made was to reorganize the team's queues and views, and to transition from direct email support to custom ticket forms that collect key customer and product information into a ticket so that agents can immediately begin troubleshooting once a ticket is submitted. The team also uses the Zendesk SLA feature (their favorite Zendesk feature.)
"We've drastically improved our efficiency as a team because everything is organized, and it's really shown in our customer satisfaction," said support engineer Tyler Conlee. "Seeing the results really cemented that Zendesk was the right tool for us."
These results include shrinking the team's first response time from an average of 14 hours to 3 hours—a 78.5 percent reduction.
The team's CSAT climbed from its monthly average of 86 percent to 92 percent.
Thinkific
After months of evaluating options including Help Scout, choosing Zendesk was a "no-brainer" for Thinkific.
"The first day we started using Zendesk, our fastest agent, who normally resolves twice as many tickets as anyone else, said immediately that she was now even faster. Zendesk's workflows and UI are designed for efficiency," said Veronica Howes, director of customer success at Thinkific.
Thinkific's team calculated the ROI of using Zendesk by determining that agents could resolve 2.5 more tickets per day, which translates to one less headcount.
Omada Health
As Omada Health grew, Help Scout began to show signs of serious strain. Poor voice integration, limited metrics, and the inability to integrate with Omada Health's own platform were hamstringing the company's efforts to provide seamless service. By switching from Help Scout to Zendesk, the company saved two minutes per ticket and increased satisfaction scores for both patients and employees.
Aided by the newfound ability to track metrics (like abandoned calls and time-on-ticket) and to prioritize tickets based on service level agreements, the team achieved a 95 percent first-touch resolution rate with phone calls and an 85 percent first-touch resolution rate across all channels.
These changes are reflected by the support team's customer satisfaction ratings in Zendesk—patient support averages a 95 percent CSAT.
Frequently asked questions
Ready to try Zendesk?
A basic ticketing system can only take you so far. Modern support teams need customer service software that can support ever-evolving customer needs and business growth. Many teams that initially choose Help Scout eventually have to seek alternatives due to shortcomings in the software's capacity to scale. With our complete service solution, you can confidently deliver exceptional customer experiences today and in the future.
We have more to say about this.
Explore these resources to deep dive into why users choose Zendesk vs. Help Scout.